BST Carbon Fiber Wheel Front 3.0 X 19 Touring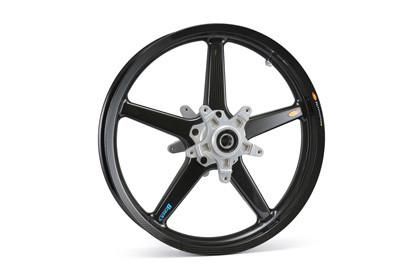 BST Carbon Fiber Wheel Front 3.0 X 19 Touring
THE ADVANTAGES OF BST CARBON FIBER WHEEL.
The wheel is lighter… so the bike is lighter… so it's easier to handle – less fatigue
The carbon fiber wheel is lighter in the RIM and in the SPOKES – which lowers the Moment of Inertia
Better and lighter handling
Quicker response to the rider's commands
Faster acceleration
Quicker braking
Safer riding
Beautiful carbon fiber finish in high gloss
BST Wheels Improve Performance Dramatically
WEIGHT SAVING ON THE BST WHEELS WORKS LIKE THIS:
The Outer Rim affects 85% of the overall performance of the wheel – we have made it lighter
The Spokes affect 10% of the overall performance of the wheels – we have made them lighter
The Hub center affects 5% of the overall performance of the wheels – we have made it lighte
We have reduced weight where it increases performance most – a feat which only our carbon fiber wheel can achieve because we are able to engineer with the material – Carbon Fiber.
If you reduce weight in the CORRECT places, you save on rotational inertia – and physics takes care of the rest.
BST's are the authority when it comes to optimising carbon fibre technology to reduce unsprung weight and to change the moment of inertia – making your bike faster, lighter and easier to handle.