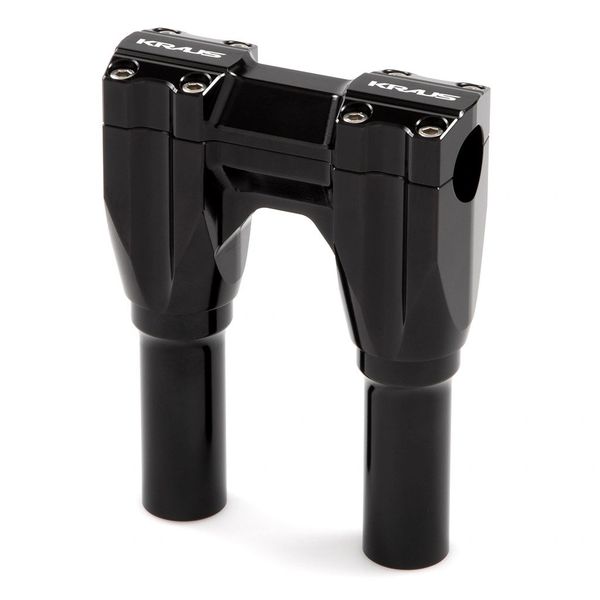 Kraus Isolated Risers
Our Kraus Isolated Riser is the solution for bad handling bars.

Utilizing the supplied billet bushings, the Isolated Riser is designed to be solid-mounted to the top triple tree. This creates a much more rigid bar setup, allowing for far greater use of your bike's suspension and braking capabilities. As for vibration dampening, we relocated the rubber bushings just below the handlebar and inside what we call our riser midsection. Our proprietary use of these rubber isolators drastically reduces the amount of unwanted leverage being placed on the bushings, as well as creates a much more solid bar feel, giving you greater confidence in your bike's handling.

You'll notice the difference of a hard-mounted riser leg and relocated rubber isolator right away. Far less vibration and a much better bar feel. 
Handlebar clamp is offered in either 1⅛ inch for Moto style bars or 1 inch for standard Harley bars.
Bottom clamp has an opening to accommodate hidden wiring.
To make it easy, we offer a 1⅛ Moto bar on our site. 
3.5" on center for standard OEM Harley fitment.
Bushing life is increased and maintenance needs are lowered. 
Wiring slot in center of riser body allows for easy installation and clean wiring.
Our Kickback and Straight Risers are modular, meaning you can swap out just the legs should you decide to run a shorter/taller rise down the line. See the Riser Leg product page for more info.