Red Shift 472 Cam for Milwaukee-Eight® Engines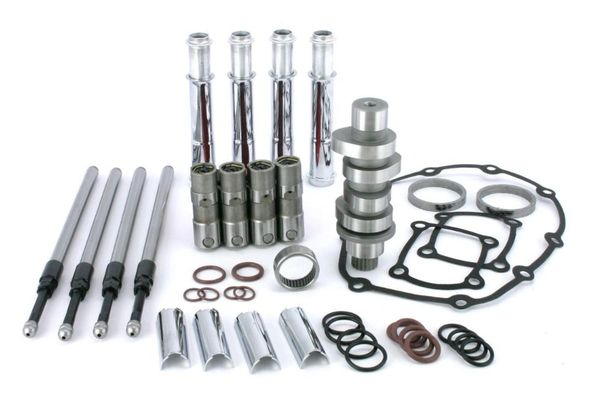 Red Shift 472 Cam for Milwaukee-Eight® Engines
OVERVIEW
New from Red Shift Cams is the 472 for the Milwaukee-Eight®, a bolt-in grind for 114, 117 & larger Hot Rod Milwaukee-Eight® engines. The Red Shift 472 is designed to work with factory valvetrain components, as well as modified heads with upgraded spring / valve combinations and porting. The Red Shift 472 is designed to be a mid-range to top-end cam, but its unique timing maintains low-end torque. The Red Shift 472 really shines in 114 inch and larger engines which are modified with slightly more compression and air demand. Designed to enhance the unique cylinder head layout of the Milwaukee-Eight® engine, the 472 is a great companion to the extremely successful 468 cam. The 472 provides a different ride experience -- if you like to stay in the throttle till red line, the 472 will get you there very quickly! Cranking compression is only slightly increase over factory for easy starting, and proprietary Red Shift Cams® ramp design delivers quiet operation and long valvetrain life.

We sell the Red Shift 472 cam in a complete Zip Kit that includes the cam, Torrington/Koyo® cam bearing, cam change gasket set, high quality S&S tappets and Quickee pushrods with covers that allow no rocker box disassembly and easy access for pushrod adjustments, at a 10% discount over the individual cost of all the included components – everything you need for a quick cam swap! Or you can purchase the 472 cam (includes full-compliments Torrington/Koyo bearing), gaskets and Quikee pushrod kit separately.

- Bolt-in Camshaft for strong mid-range to top-end power, while retaining low end torque

- Works with stock or modified heads and throttle bodies

- Effortless acceleration, Muscle kit class pulling power, even with unmodified head

- Easy to ride slow, very impressive mid-range torque & top end HP

- Wide, Flat Torque curve with no dips from 2,000 RPM on

- Most Impressive ride experience, arm-stretching acceleration to 6,000 RPM

- Similar cranking compression to stock




In compliance with ARB emissions laws, this product is not sold or shipped to California.